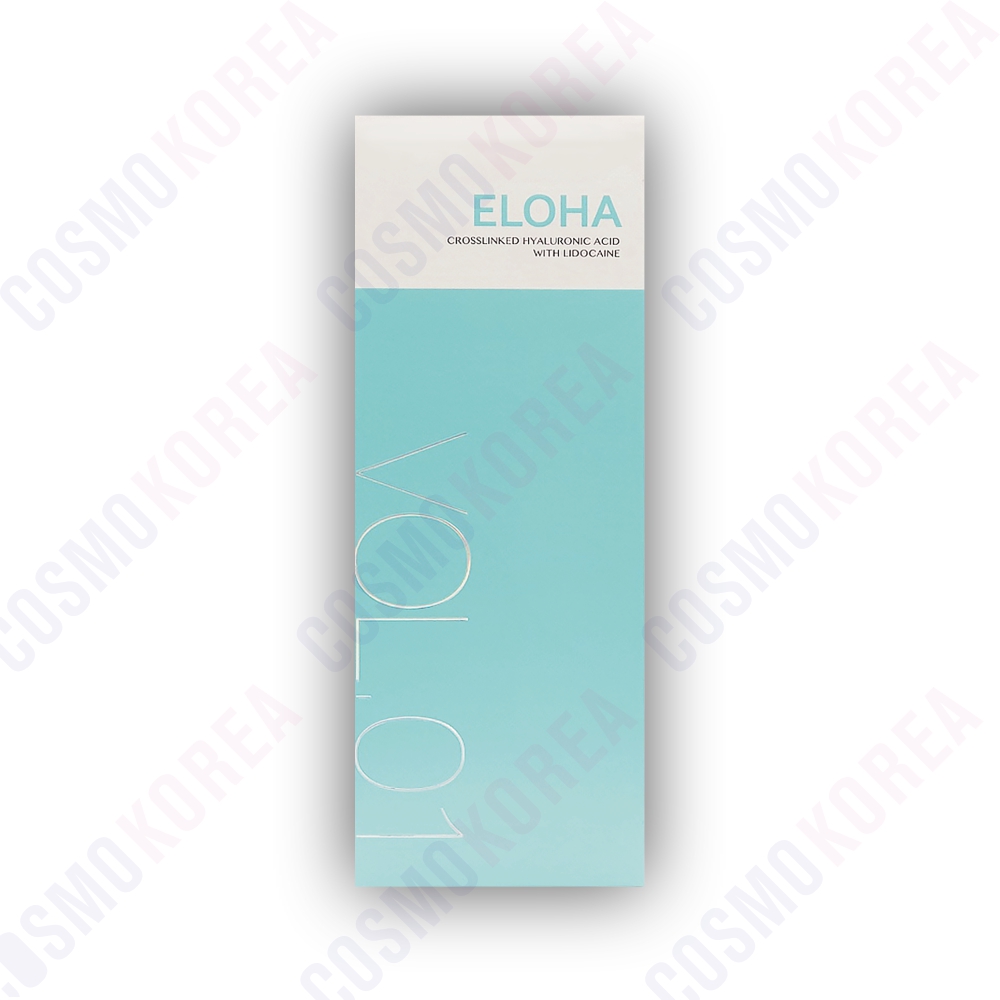 Eloha Vol 1
1 syringe × 1.0 ml, 2 needles per pack
1
---

Eloha presents a series of stabilized hyaluronic-acid-based fillers with a unique multilayer structure. Eloha fillers contain a mix of mono- and biphasic gel particles that allow uniform filler distribution and a natural-looking effect. The Eloha series contains three products that differ in the ratio of mono- and biphasic particles depending on the scope of use: skin rejuvenation Eloha Vol 1, correction of moderate-to-severe wrinkles Eloha Vol 2, and face contouring and volumization Eloha Vol 3.

Show More
Eloha Vol 1 is a cross-linked hyaluronic acid- (HA)-based filler with a mixed mono- and biphasic structure. The ratio of mono- and biphasic HA in Eloha Vol 1 is 1 to 1. Such a combination results in longer effect duration, greater filler fluidity and plasticity, as well as the lack of the risk of filler migration. In addition, due to the exceptional hybrid-type structure of Eloha fillers, they are more evenly distributed in the dermal layers while occupying as much space as possible, which provides a natural-looking effect.
Strengths of Eloha:
the first HA filler with a hybrid biphasic-monophasic structure

multilayer HA structure delays filler degradation and ensures long aesthetic effect duration

natural-looking effect due to the hybrid HA gel structure

the Eloha series contains three products varying in the ratio of monophasic HA to biphasic HA particles depending on the scope of use

no filler migration to adjacent tissues

smooth and ease gel injection reduces the risk of post-injection swelling and bruises
Eloha Vol 1 is used for biorevitalization, correction of superficial and moderately pronounced facial wrinkles, and lip augmentation. The filler is injected in the superficial and mid dermis.
Scope of Eloha Vol 1:
deep skin hydration and rejuvenation

periorbital area wrinkles, filling of lacrimal groove

correction of glabellar, nasolabial, and neck lines

lip line correction and mild augmentation
The aesthetic effect lasts from 6 to 9 months.
Product composition: HA 20 mg/ml, Lidocaine 0.3%
Eloha Vol 1
1 syringe × 1.0 ml, 2 needles per pack
Needle size: 27G, 30G
Manufacturer: Daewoong Co., Ltd., South Korea
The product has contraindications. We are not responsible for any negative effects that you may encounter after administering products by yourself. Consulting a doctor or medical professional is recommended prior to any procedure.
This is a preview of the recently viewed products by the user.
Once the user has seen at least one product this snippet will be visible.
Recently viewed Products