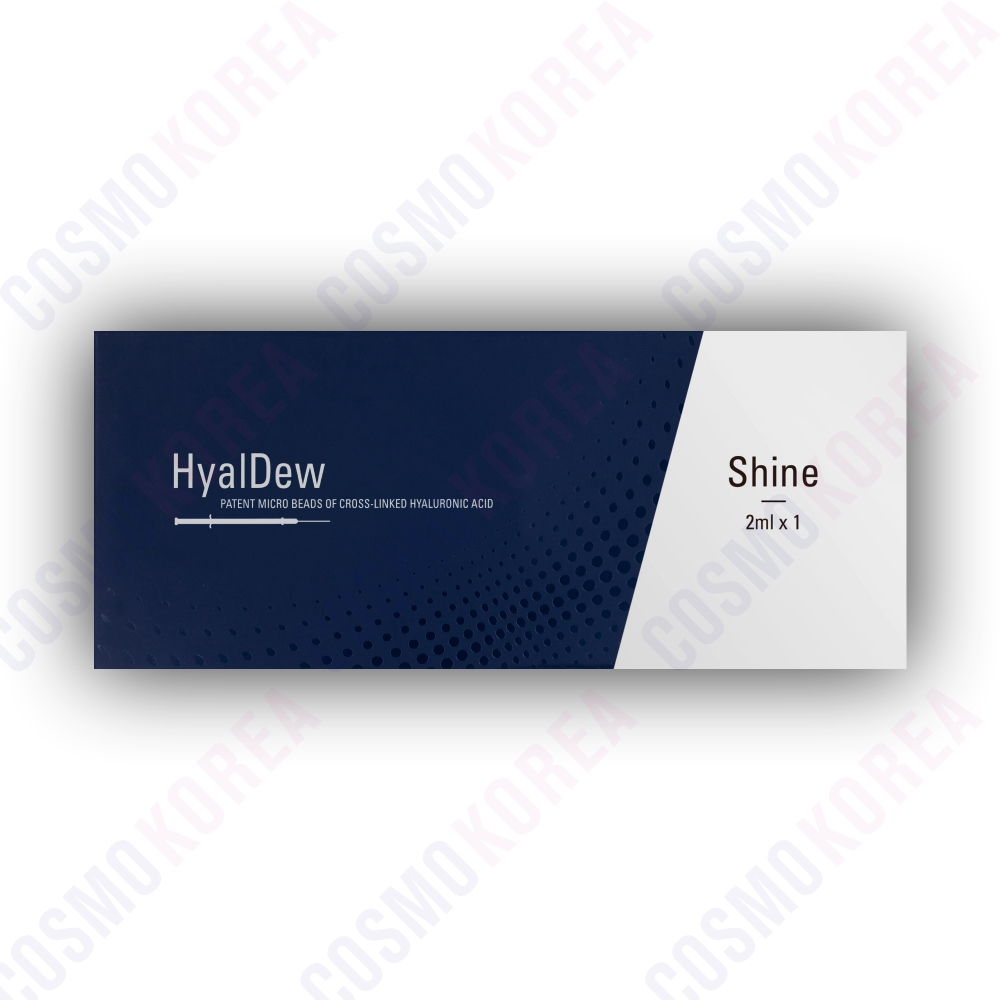 HyalDew Shine without lido
1 syringe × 2.0 ml per pack
1
---

HyalDew presents a series of hyaluronic-acid- (HA)-based fillers from the South Korean company BioPlus Co., Ltd. A unique 3-staged HA cross-linking technology is used for manufacture of HyalDew products, which allows regulating HA cross-linking rate and gel viscosity. As a result, the HyalDew series contains 4 products with different gel parameters for various needs: HyalDew All, HyalDew Mid, HyalDew Fine, HyalDew Shine.
Show More
HyalDew presents a new generation of hyaluronic acid (HA) fillers providing a long-lasting esthetic effect. The patented "Multi-staged Cross-Linking (MCL)" technology ensures ultrafine microbead structure of the HA gel. The innovative 3-staged processing technology yields ultrafine HA microbeads of three different sizes that are placed one inside another similar to the nesting dolls. Such a complicated structure guarantees prolonged effect duration in comparison with the HA fillers obtained using standard cross-linking techniques.
Strengths of HyalDew:
the series contains 4 products varying in the HA cross-linking rate and particle size depending on the scope of use

long effect duration due to the unique HA structure

the innovative technology of 3-staged HA cross-linking results in the unique microbead HA structure
HyalDew Shine is a skin booster developed specifically for skin rejuvenation. The filler is injected into the middle dermis of various parts of the face. Small gel particle size (100 µm) ensures even gel distribution and a natural-looking effect.
Scope of HyalDew Shine:
fine wrinkle filling

evening skin tone

hydration to the dry and dull skin

treatment of pigmented spots
The aesthetic effect lasts up to 12 months.
Product composition: HA 20 mg/ml, lidocaine 0.3%
HyalDew Shine
1 syringe × 2.0 ml per pack
Needle size: 31G 13 mm or 34G 1.2 mm
Manufacturer: BioPlus Co., Ltd., South Korea
The product has contraindications. We are not responsible for any negative effects that you may encounter after administering products by yourself. Consulting a doctor or medical professional is recommended prior to any procedure.
This is a preview of the recently viewed products by the user.
Once the user has seen at least one product this snippet will be visible.
Recently viewed Products