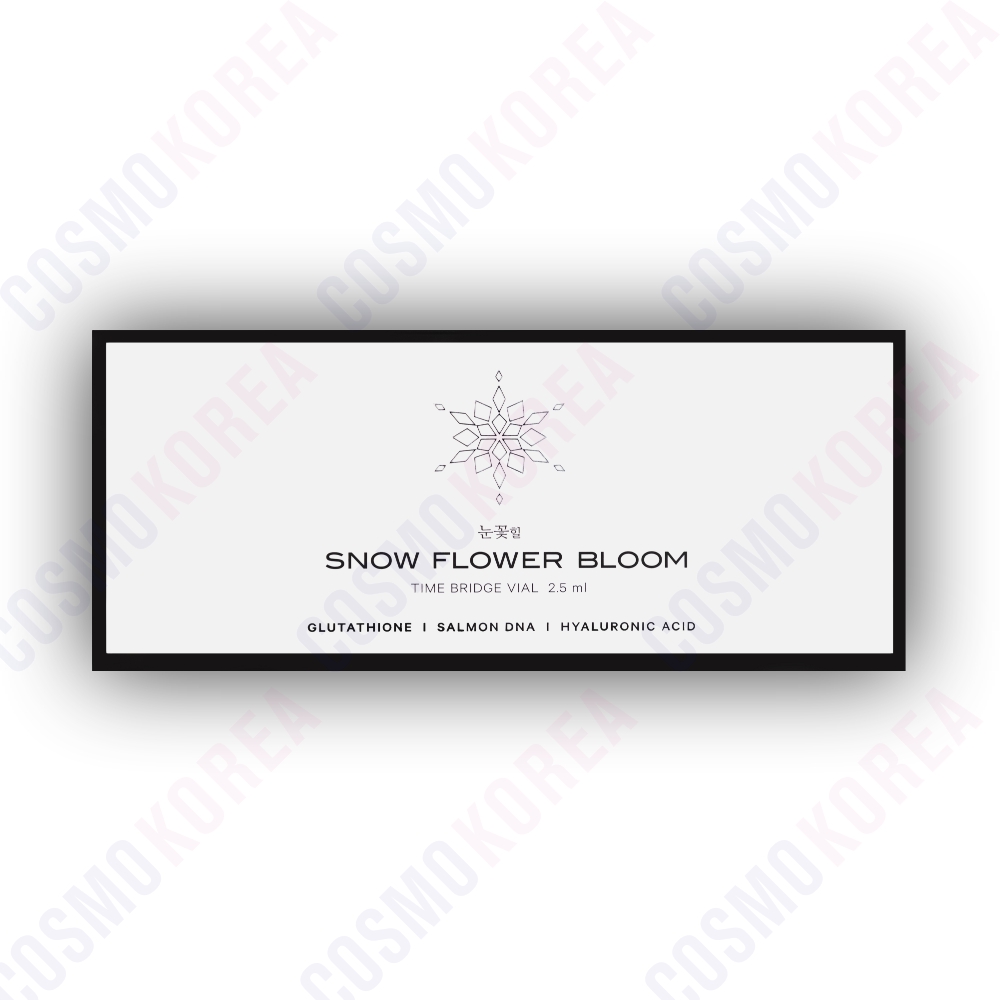 Snow Flower Bloom
5 vials × 2.5 ml per pack
1
---
Snow Flower Bloom is a triple effect skin rejuvenation cocktail: hyaluronic acid in the product helps to naturally moisturize the skin, increase skin elasticity, glutathione evens skin tone and eliminates unevenness, special ingredient DNA particles of salmon (PDRN), makes the skin youthful, healthy and shining, due to the similarity with human DNA. The snow flower is an enhancer of natural beauty, and it is also a product that includes only the most effective and unique ingredients obtained from different parts of the world, the quality of which has been confirmed and proven. These are hyaluronic acid macromolecules from Japan, and DNA (PDRN), salmon from Alaska (USA), and glutathione from Japan.

Show More
Snow Flower Bloom is an injectable multi-directional product for effective regeneration, moisturizing and brightening of skin. The well-balanced composition of the product contains (1) hyaluronic acid that saturate skin with water and improves its elasticity by enhanced collagen synthesis; (2) reduced glutathione that exerts whitening effect by inhibition of melanin production as well as (3) polydeoxyribonucleotides (PRDN) responsible for the skin regeneration by intense proliferation of fibroblasts. Such complex action of constituents leads to the significant increase in skin elasticity, flattering of skin tone, pore retraction, smoothing of wrinkles in the eye and lips area as well as elimination of undesirable pigmentation, providing radiance and freshness to the skin. The product exerts anti-aging and anti-oxidant effects and protects skin from photo-aging as well. 
Strengths of Snow Flower Bloom:
composition of PDRN is similar with human DNA  providing high biocompatibility and hypoallergenicity of the product and minimizing the side effects  

short recovery period after the procedure 

product may be used for the recovery of sensitive and injured skin 

it is effective for the correction of postacne scars as well as pigment spots 

constituents of the product are concordantly blended and able to enforce each other 
Scope of Snow Flower Bloom: 
deep moisturizing and extend of skin elasticity 

flattering of skin tone and brightening of pigment spots

pore retraction, reduction of acne blemish and postacne spots 

smoothing of wrinkles, general skin rejuvenation and lifting 

protection of skin form photo-aging and the action of free radicals 
The aesthetic effect lasts from 4 to 6 months.
Product composition: Hyaluronic acid, Salmon DNA (PDRN), Glutathione  
Snow Flower Bloom 
5 vials × 2.5 ml per pack
Manufacturer: YooYoung Pharmaceutical Co., Ltd., South Korea
The product has contraindications. We are not responsible for any negative effects that you may encounter after administering products by yourself. Consulting a doctor or medical professional is recommended prior to any procedure.
This is a preview of the recently viewed products by the user.
Once the user has seen at least one product this snippet will be visible.
Recently viewed Products