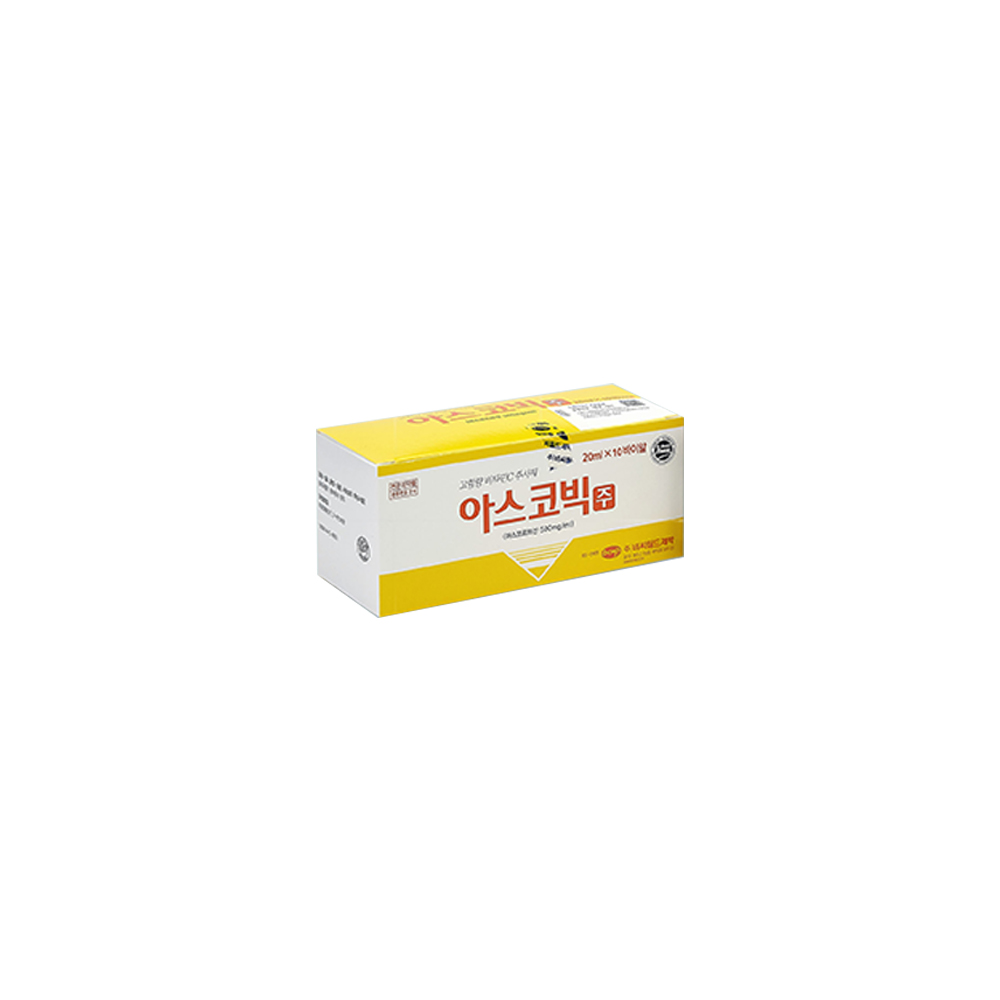 Ascorbic
10 ampoules × 20 ml per pack
1
---

Ascorbic Acid Inj. presents an injection solution of vitamin C for mesotherapy from one of the leading South Korean pharmaceutical companies Huons Co., Ltd. The company was established in 1965; since then, it manufactures injection solutions for cosmetic and medical purposes. The most popular company products include the Elravie series of HA fillers, Fcaine Cream anesthetic, Hutox Inj. botulinum toxin, and ampoule solutions of vitamins and antioxidants for mesotherapy and biorevitalization (Merit C, Beachrite Inj., High Inj., Ascorbic Acid Inj., etc.).
Show More
Ascorbic Inj. is a solution of ascorbic acid for intravenous, intramuscular, or subcutaneous use. Vitamin C (ascorbic acid) stimulates collagen production in the dermis thus providing deep skin hydration. Ascorbic acid also exerts an anti-inflammatory effect and prevents photoaging: vitamin C inhibits the synthesis of the enzyme tyrosinase thus reducing the production of the pigment melanin in the skin. Injections of the Ascorbic Acid Inj. even the skin tone, reduce pigmentation, accelerate the healing of wounds and scars, bring some radiance and healthy appearance to the skin, as well as enhance its barrier.
Strengths of Ascorbic Acid Inj.:
natural composition (only vitamin C)

no side effects

ideal for all ages

powerful antioxidant that protects the skin from the harmful environmental factors

stimulates the production of endogenous collagen

accelerates recovery after long period of sickness

quick skin regeneration after chemical and laser peels

improved skin tone and structure; skin acquires a healthy color and radiance
Ascorbic Acid Inj. is used for mesotherapy.
Scope of Ascorbic Acid Inj.:
dull skin, uneven skin tone

skin discoloration caused by acne blemishes

dry, rough, and dehydrated skin

early signs of aging (superficial wrinkles, loss of elasticity, and skin sagginess)

pimples and acne scars

wide pores

pigmentation of various etiology: age spots, solar-induced pigmentation, freckles, hyperpigmentation disorders (melasma, ephelides)

quick skin regeneration after CO2 laser skin resurfacing and medium chemical peel
Product composition: Ascorbic acid, 500 mg
Ascorbic Acid Inj.
10 ampoules × 20 ml per pack
Manufacturer: Huons Co., Ltd., South Korea
The product has contraindications. We are not responsible for any negative effects that you may encounter after administering products by yourself. Consulting a doctor or medical professional is recommended prior to any procedure.
This is a preview of the recently viewed products by the user.
Once the user has seen at least one product this snippet will be visible.
Recently viewed Products