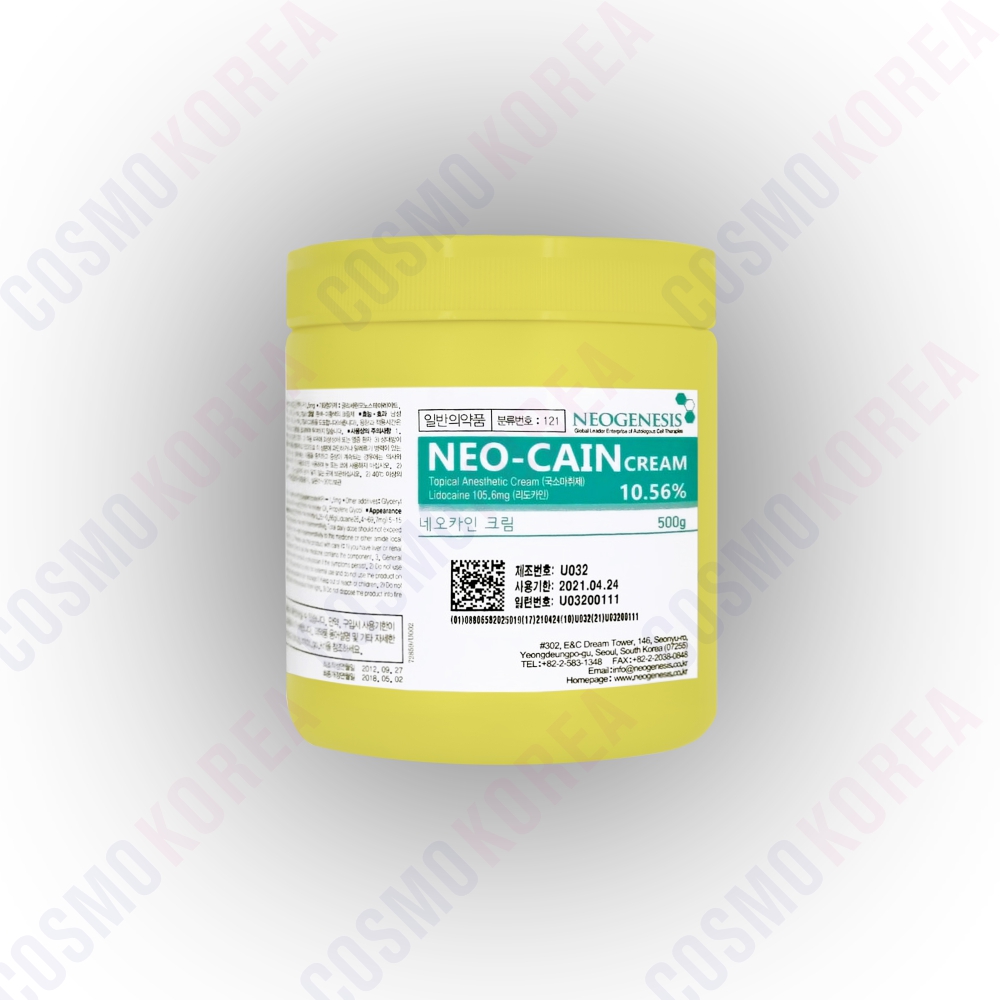 Neo-Cain Cream 500 g
1
---
Neo-Cain Cream presents a topical anesthetic for cutaneous use during injection corrections from the South Korean company NeoGenesis Co., Ltd. NeoGenesis is a globally growing company specializing in manufacturing cosmetology products such as HA-based fillers, mesotherapy and fat-burning solutions, as well as devices for stem cell therapy.
Show More
Neo-Cain Cream presents a topical anesthetic for skin numbing and reducing painful sensations during a cosmetic procedure. The cream has one of the highest content of lidocaine (10.56%) among similar products for local anesthesia. Due to the high concentration of lidocaine, Neo-Cain Cream ensures smooth and painful injection even for clients with increased sensitivity and low pain threshold. The use of Neo-Cain Cream also reduces the risk of skin injury by a needle or a cannula, which is associated with pore narrowing and vasodilation in response to pain stimuli. With Neo-Cain cream, the risk of post-procedure swelling and bruising, as well as occurrence of other adverse consequences, is now minimized.
Strengths of Neo-Cain Cream:
the product is ideal for all types of minimally invasive cosmetic procedures

guaranteed anesthetic effect due to high lidocaine content

convenient dosage (500 g): enough for a large number of applications

reduced risk of skin injury during the procedure as well as post-injection edema, bruises, bleeding and skin irritation
Neo-Cain Cream is used for reducing painful sensations during minimally invasive cosmetic procedures.
Scope of Neo-Cain Cream:
local anesthesia prior to injection

pain relief in sensitive skin areas
Product composition: Lidocaine, 10.56%; Inactive ingredients
Neo-Cain Cream 500 g
1 × 500 g per pack, white-yellowish cream
Manufacturer: NeoGenesis Co., Ltd., South Korea
The product has contraindications. We are not responsible for any negative effects that you may encounter after administering products by yourself. Consulting a doctor or medical professional is recommended prior to any procedure.
This is a preview of the recently viewed products by the user.
Once the user has seen at least one product this snippet will be visible.
Recently viewed Products