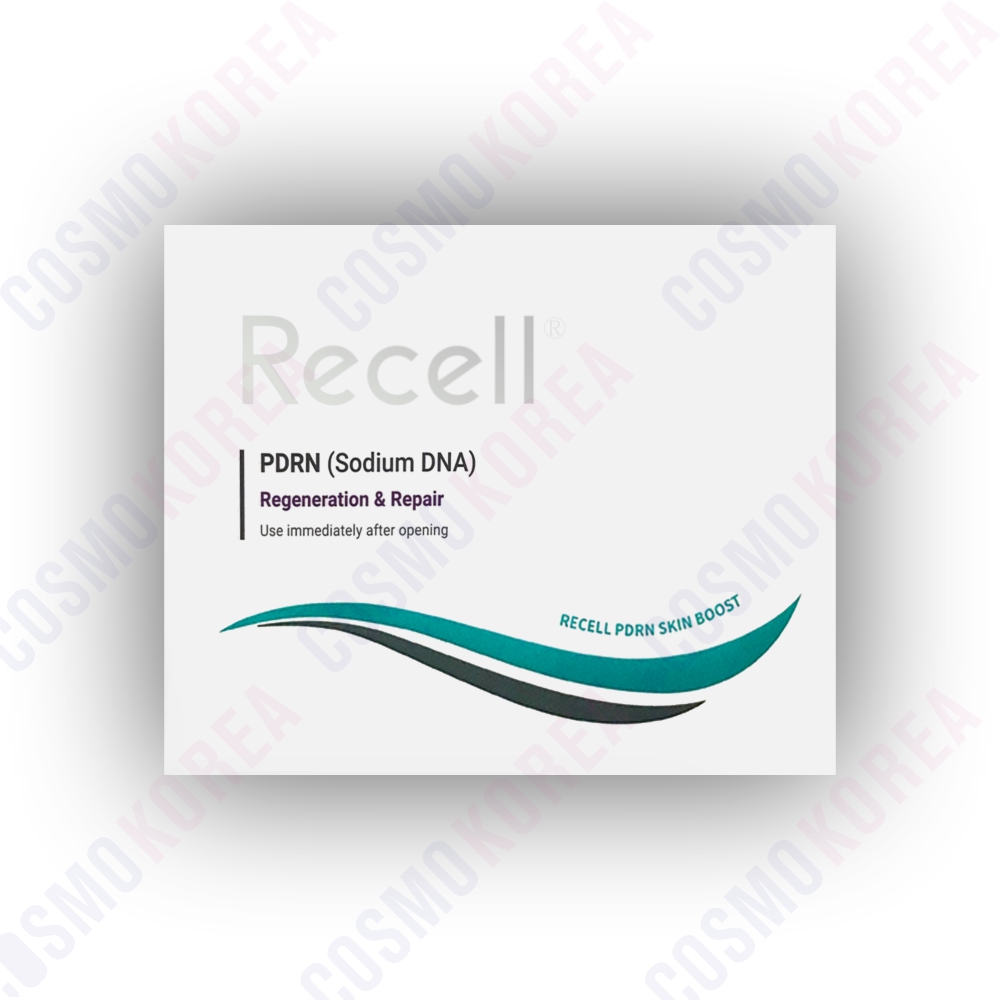 Recell
1
---
Recell is a brand of boosters based on polyribonucleotides for the enhancement of skin tension, management of undesirable pigmentation, pores contraction and flattering of wrinkles by Maypharm Inc. The series contains only one product. The product represents the short DNA fragments of natural origin that is why the product is easily digested by the organism, is absolutely hypoallergenic and is able to incorporate to the metabolic pathways and provide the reorganization of damage tissues microenvironment. The results of product application will be long-lasting restoration of skin youth and elasticity.

Show More
Recell is a booster based on polyribonucleotides for resolution of various cosmetological issues. This product contains low-molecular DNA fragments of natural origin that turns it to the absolutely hypoallergenic and biocompatible agent. The mechanism of action lies in the binding of product with adenosine receptors following by secretion of anti-inflammatory cytokines and growth factors. Moreover, the product provides fast tissue regeneration since it represents the material for the own cellular DNA synthesis. The results of product introduction will be enhancement of skin elasticity, flattering of wrinkles, pores contraction, prophylaxis of undesirable pigmentation as well as considerable increase of wound healing rate after surgeries. The effects of the procedures will be long-lasting since the product provides gradual secretion of growth factors stimulating the reorganization of cellular microenvironment.
Strengths of Recell (PDRN Sodium DNA):
the product exhibits long-lasting effect because of stimulation of growth factors synthesis

the product is quite stable and absolutely hypoallergenic

the small size of DNA fragments provides easy administration and absorption of the product

stimulates reorganization of the damaged skin microenvironment

the product might be applied using syringes, mesotherapy gun or derma roller
Recell is injected for:
increase in skin elasticity

pores contraction

acne treatment

flattering of wrinkles

management of unwanted pigmentation

post-surgical wound healing improvement
The effect of the procedure lasts up to 12 months.
Product composition: Polydeoxyribonucleotide (PDRN)
Recell
5 vials × 3 ml per pack
Manufacturer: MayPharm Inc., South Korea
The product has contraindications and can only be used by a certified cosmetologist. We are not responsible for the negative consequences of self-use.
This is a preview of the recently viewed products by the user.
Once the user has seen at least one product this snippet will be visible.
Recently viewed Products