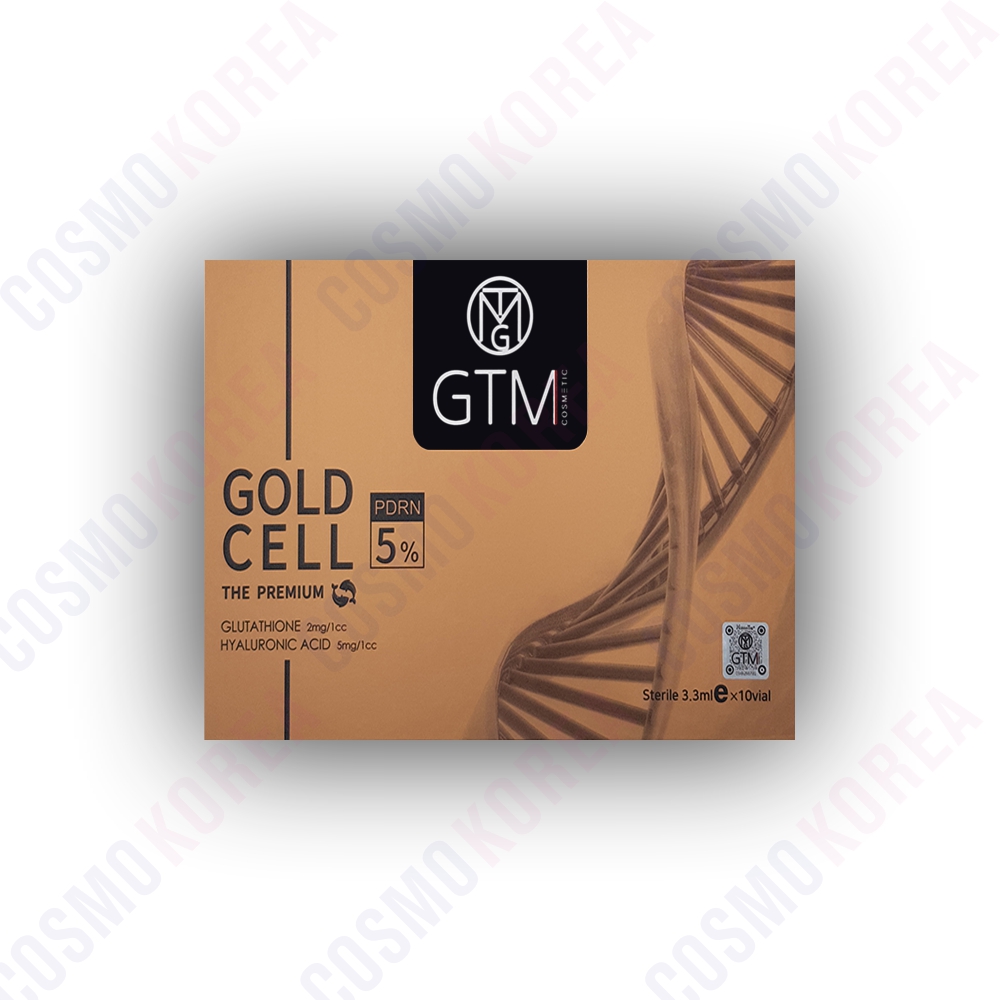 GTM Gold Cell 5 %
10 vials x 3.3 ml per pack
1
---
GTM is a brand of injectable products by CMED Medical Group, for multidirectional and complex improvement of face skin state. The series is represented by two products and includes GTM Gold Cell and GTM Mela cell solutions. Both products are united by the presence of polyribonucleotides and glutathione in their compositions that stimulate skin brightening and regeneration as well as help to manage the erythema and lesions. By means of extra constituents – hyaluronic acid in case of GTM Gold Cell and tranexamic acid and aminoacids in case of GTM Mela cell, injections of the solutions may result in the enhancement of collagen production and increase in skin elasticity as well as anti-aging and protective antioxidant effects.

Show More
GTM Gold Cell 5% is an injectable product for recovery of a healthy skin state. Various components of the solution are responsible for the complex action of the product. Polyribonucleotides in the 5% concentration effectively trigger the skin regeneration providing fast healing of wounds and scars. Hyaluronic acid deeply moisturizes the skin, removing the feeling of dryness and tightness. Glutathione represents the effective remedy in the management of undesirable pigmentation, erythema and acne. Moreover, the product contains a set of vitamins which recover the healthy state of the skin, provide necessary photo-protection and prevent the influence of oxidative agents, maintaining skin tension and elasticity.     
Strengths of GTM Gold Cell 5%:
the product is quite stable and provides long-lasting effect from the procedures

the natural components in the composition guarantee maximal safety of injections and fast recovery from the procedures

the effect becomes evident the shortest time after injection

works perfectly with the other injectable and non-invasive procedures 
GTM Gold Cell 5% is used for biorevitalization. 
Scope of GTM Gold Cell 5%:
deep face skin moisturizing because of the presence of hyaluronic acid in the product composition which effectively binds water

skin strengthening and maintenance of its tension

treatment of acne and erythema

supporting of level skin tone

management of undesirable pigmentation

scars elimination
Product composition: PDRN (salmon DNA) 5%, Glutathione 2%, Hyaluronic Acid 5% 
GTM Gold Cell 5%
10 vials × 3.3 ml per pack
Manufacturer: CMED Medical Group, South Korea
The product has contraindications and can only be used by a certified cosmetologist. We are not responsible for the negative consequences of self-use.
This is a preview of the recently viewed products by the user.
Once the user has seen at least one product this snippet will be visible.
Recently viewed Products