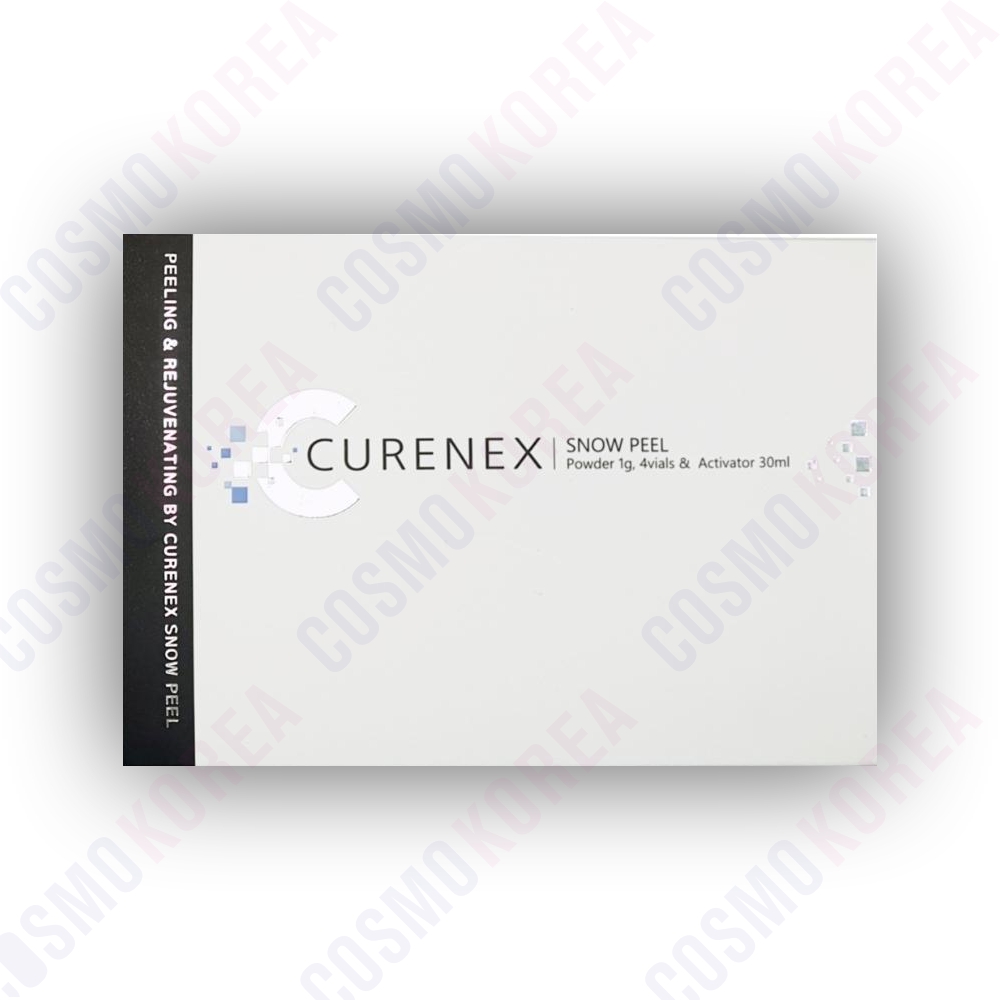 Curenex Snow Peel
4 vials × 1 g (snow peel powder)
1 × 30 ml (activator) per pack
1
---
Curenex is a brand of products based on polyribonucleotides, glutathione and peptides by K Derma. The series contains three products including Curenex Snow Peel, Curenex Dailycare Skin Booster and Curenex Skin Booster. These solutions are developed for various beauty issues such as exfoliation and renewal of skin, daily care, maintenance of face even tone, moisturization and deep nutrition, as well as management of imperfections such as age-related and mimic wrinkles, scars, poct-acne, dark skin tone and dryness.

Show More
CureNex Snow Peel is an innovative peeling for face skin renewal and rejuvenation. This product is unique since it exfoliates dead cells and provides complex recovery and protection for damaged and healthy skin cells at the same time. The main component of the peeling is a hydrolyzed sponge which has natural origin. It provides careful and safe cells exfoliation. Besides, the composition of the product includes gluconolactone which shows protective effect and prevents enhancement of skin sensitivity, polyribonucleotides that nourish and regenerate epidermis cells as well as glutathione and niacinamide that act like antioxidants and regulate skin sebum production. Thus, application of this peeling allows you to reach significant purification and improvements of face skin state.
Strengths of CureNex Snow Peel:
might be used for skin exfoliation and rejuvenation of male and female patients of any age

not only perfectly scrubs the dead cells but also nourish and recover damaged cells

possesses antioxidant effect

improves metabolism on the molecular level

demonstrates long-lasting effect since stimulates gradual skin renewal
CureNex Snow Peel is applied directly to the skin for:
exfoliation of dead cells and skin renewal

improvement of skin metabolism

skin rejuvenation

nutrition and recovery of damaged cells
The effect of the procedure lasts more than 6 months.
Product composition: Purified Hydrolized Sponge, Gluconolactone, PDRN (salmon DNA), Multi Peptides, Glutathione, Collagen, Hyaluronic Acid
CureNex Snow Peel
4 vials × 1 g (snow peel powder)
1 × 30 ml (activator) per pack
Manufacturer: K Derma, South Korea
The product has contraindications and can only be used by a certified cosmetologist. We are not responsible for the negative consequences of self-use.
This is a preview of the recently viewed products by the user.
Once the user has seen at least one product this snippet will be visible.
Recently viewed Products