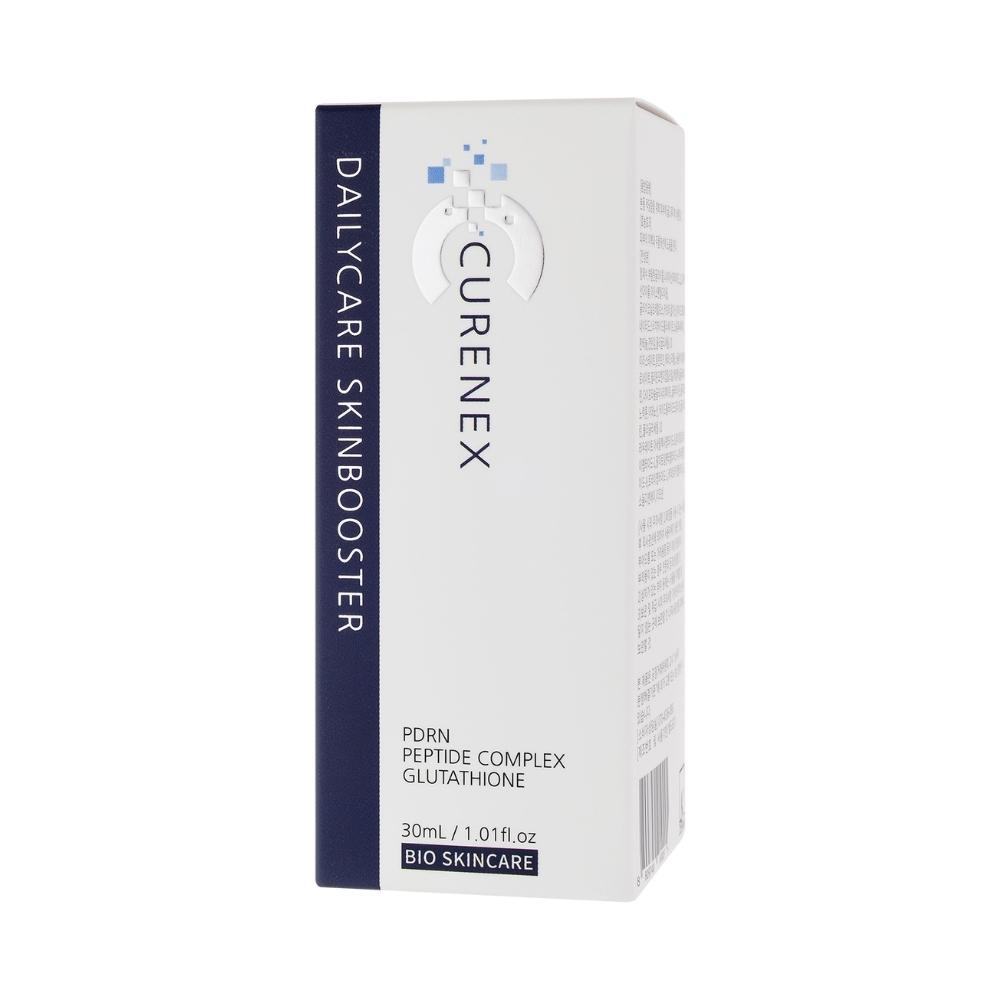 CureNex Dailycare Skin Booster
1
---
Curenex is a brand of products based on polyribonucleotides, glutathione and peptides by K Derma. The series contains three products including Curenex Snow Peel, Curenex Dailycare Skin Booster and Curenex Skin Booster. These solutions are developed for various beauty issues such as exfoliation and renewal of skin, daily care, maintenance of face even tone, moisturization and deep nutrition, as well as management of imperfections such as age-related and mimic wrinkles, scars, poct-acne, dark skin tone and dryness.

Show More
CureNex Dailycare Skin Booster is a dailycare product for maintenance of natural radiance and elasticity of face skin. The composition of the product includes exclusively the compounds of natural origin such as polyribonucleotides, glutathione, peptides and hyaluronic acid. That is why the solution is perfectly absorbing by skin and effectively impacts the cellular metabolism on a molecular level. The application of the booster will result in the significant increase in the skin elasticity by stimulation of collagen and elastin synthesis, maintenance of even skin tone because of inhibition of melanin production, flattering of fine imperfections and deep skin moisturization via hyaluronic acid action and protection of skin from the aggressive environment effect by the presence of glutathione in the composition.
Strengths of CureNex Dailycare Skin Booster:
provides complex restoration of face skin via stimulation of collagen and elastin synthesis

has a deep effect on epidermis without any injections

suitable for sensitive skin

prevents formation of pigment spots via inhibition of melanin synthesis

demonstrates fast absorption
CureNex Dailycare Skin Booster is applied directly to the skin for:
settlement of skin sebum production balance

improvement of skin elasticity and face skin radiance

flattering of skin tone

deep moisturization

epidermis cells regeneration via activation of fibroblasts and collagen synthesis 
The effect of the procedure lasts more than 6 months.
Product composition: PDRN (salmon DNA), Multi Peptides, Glutathione, Collagen, Hyaluronic Acid
CureNex Dailycare Skin Booster
1 vial × 30 ml  per pack
Manufacturer: K Derma, South Korea
The product has contraindications and can only be used by a certified cosmetologist. We are not responsible for the negative consequences of self-use.
This is a preview of the recently viewed products by the user.
Once the user has seen at least one product this snippet will be visible.
Recently viewed Products